Buying or Selling a Home? You Need an Expert Kind of Guide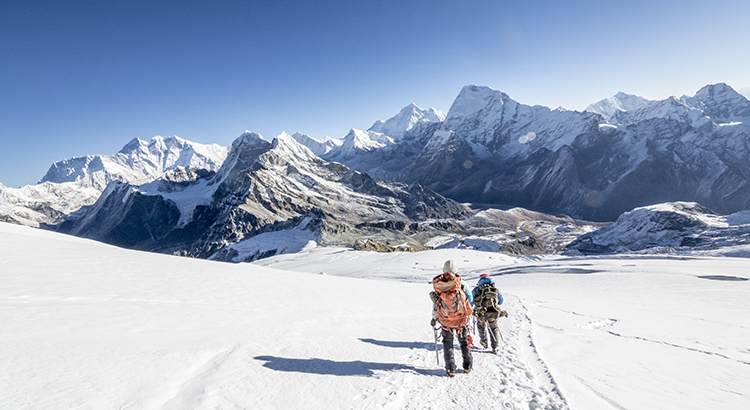 In a normal housing market, whether you're buying or selling a home, you need an experienced guide to help you navigate through the process. You need someone you can turn to who will tell you how to price your home correctly right from the start. You need someone who can help you determine what to offer on your dream home without paying too much or offending the seller with a low-ball offer.
We are, however, in anything but a normal market right now. We are amid one of the greatest health crises our nation has ever seen. The pandemic has had a dramatic impact on the journey consumers take to purchase or sell a home. To successfully navigate the landscape today, you need more than an experienced guide. You need a 'Real Estate Sherpa.'
According to Lexico, a Sherpa is a "member of a Himalayan people living on the borders of Nepal and Tibet, renowned for their skill in mountaineering." Sherpas are skilled in leading their parties through the extreme altitudes of the peaks and passes in the region - some of the most treacherous trails in the world. They take pride in their hardiness, expertise, and experience at very high altitudes.
They are much more than just guides.
This is much more than a normal real estate market.
Today, the average guide just won't do. You need a Sherpa. You need an expert who understands how COVID-19 is impacting the thoughts and actions of the consumer (ex: virtual showings, proper safety protocols, e-signing documents). You need someone who can simply and effectively explain the changes in today's process to you and your family. You need an expert who will guarantee you make the right decision, especially in these challenging times.
Bottom Line
Hiring an agent who understands how the pandemic is reshaping the real estate processes is crucial right now. Let's connect today to guarantee your journey is a safe and successful one.
Recession? Yes. Housing Crash? No.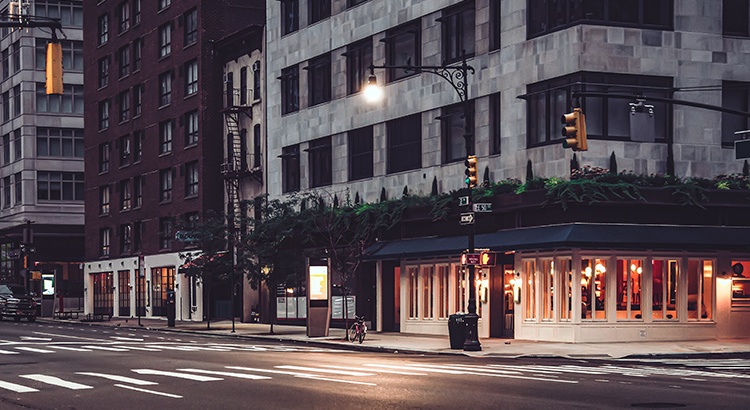 With over 90% of Americans now under a shelter-in-place order, many experts are warning that the American economy is heading toward a recession, if it's not in one already. What does that mean to the residential real estate market?
What is a recession?
According to the National Bureau of Economic Research:
"A recession is a significant decline in economic activity spread across the economy, lasting more than a few months, normally visible in real GDP, real income, employment, industrial production, and wholesale-retail sales."
COVID-19 hit the pause button on the American economy in the middle of March. Goldman Sachs, JP Morgan, and Morgan Stanley are all calling for a deep dive in the economy in the second quarter of this year. Though we may not yet be in a recession by the technical definition of the word today, most believe history will show we were in one from April to June.
Does that mean we're headed for another housing crash?
Many fear a recession will mean a repeat of the housing crash that occurred during the Great Recession of 2006-2008. The past, however, shows us that most recessions do not adversely impact home values. Doug Brien, CEO of Mynd Property Management, explains:
"With the exception of two recessions, the Great Recession from 2007-2009, & the Gulf War recession from 1990-1991, no other recessions have impacted the U.S. housing market, according to Freddie Mac Home Price Index data collected from 1975 to 2018."
CoreLogic, in a second study of the last five recessions, found the same. Here's a graph of their findings: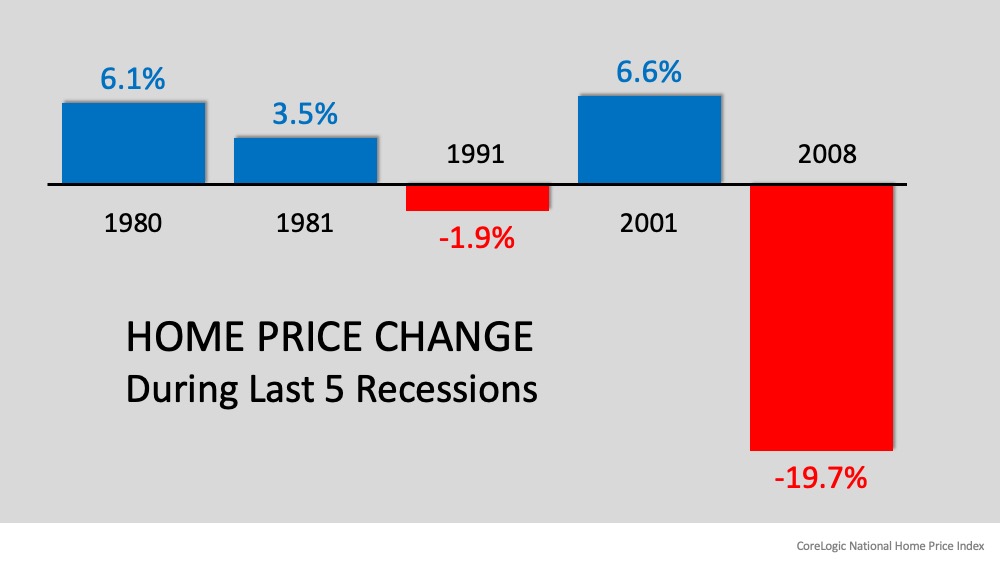 What are the experts saying this time?
This is what three economic leaders are saying about the housing connection to this recession:
Robert Dietz, Chief Economist with NAHB
"The housing sector enters this recession underbuilt rather than overbuilt…That means as the economy rebounds - which it will at some stage - housing is set to help lead the way out."
Ali Wolf, Chief Economist with Meyers Research
"Last time housing led the recession…This time it's poised to bring us out. This is the Great Recession for leisure, hospitality, trade and transportation in that this recession will feel as bad as the Great Recession did to housing."
John Burns, founder of John Burns Consulting, also revealed that his firm's research concluded that recessions caused by a pandemic usually do not significantly impact home values:
"Historical analysis showed us that pandemics are usually V-shaped (sharp recessions that recover quickly enough to provide little damage to home prices)."
Bottom Line
If we're not in a recession yet, we're about to be in one. This time, however, housing will be the sector that leads the economic recovery.
Experts Predict Economic Recovery Should Begin in the Second Half of the Year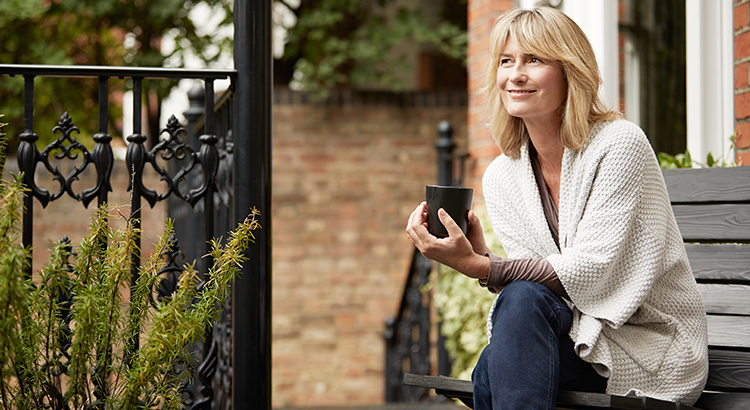 One of the biggest questions we all seem to be asking these days is: When are we going to start to see an economic recovery? As the country begins to slowly reopen, moving forward in strategic phases, business activity will help bring our nation back to life. Many economists indicate a recovery should begin to happen in the second half of this year. Here's a look at what some of the experts have to say.
Jerome Powell, Federal Reserve Chairman



"I think there's a good chance that there'll be positive growth in the third quarter. And I think it's a reasonable expectation that there'll be growth in the second half of the year…




So, in the long run, I would say the U.S. economy will recover. We'll get back to the place we were in February; we'll get to an even better place than that. I'm highly confident of that. And it won't take that long to get there."



Nonpartisan Analysis for the U.S Congress



"The economy is expected to begin recovering during the second half of 2020 as concerns about the pandemic diminish and as state and local governments ease stay-at-home orders, bans on public gatherings, and other measures. The labor market is projected to materially improve after the third quarter; hiring will rebound and job losses will drop significantly as the degree of social distancing diminishes."



Neel Kashkari, President, Minneapolis Federal Reserve Bank



"I think we need to prepare for a more gradual recovery while we hope for that quicker rebound."



We're certainly not out of the woods yet, but clearly many experts anticipate we'll see a recovery starting this year. It may be a bumpy ride for the next few months, but most agree that a turnaround will begin sooner rather than later.
During the planned shutdown, as the economic slowdown pressed pause on the nation, many potential buyers and sellers put their real estate plans on hold. That time coincided with the traditionally busy spring real estate season. As we look ahead at this economic recovery and we begin to emerge back into our communities over the coming weeks and months, perhaps it's time to think about putting your real estate plans back into play.
Bottom Line
The experts note a turnaround is on the horizon, starting as early as later this year. If you paused your 2020 real estate plans, let's connect today to determine how you can re-engage in the process as the country reopens and the economy begins a much-anticipated rebound.
Unemployment: Hope on the Horizon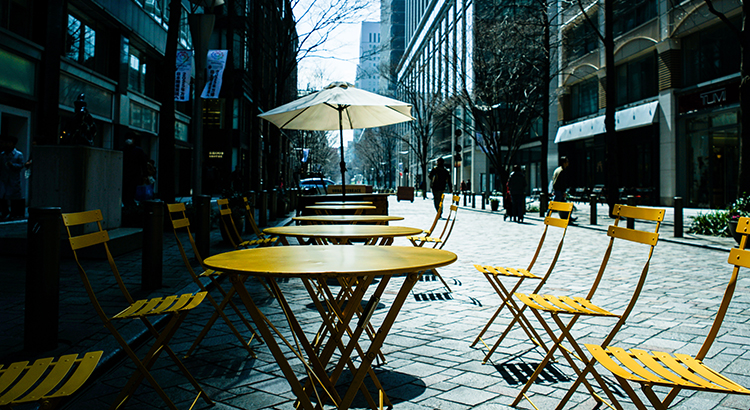 Tomorrow, the unemployment rate for April 2020 will be released by the U.S. Bureau of Labor Statistics. It will hit a peak this country has never seen before, with data representing real families and lives affected by this economic slowdown. The numbers will alarm us. There will be headlines and doomsday scenarios in the media. There is hope, though, that as businesses reopen, most people will become employed again soon.
Last month's report indicated we initially lost over 700,000 jobs in this country, and the unemployment rate quickly rose to 4.4%. With the release of the new data, that number will climb even higher. Experts forecast this report will show somewhere between a 15% - 20% national unemployment rate, and some anticipate that number to be even greater (see graph below):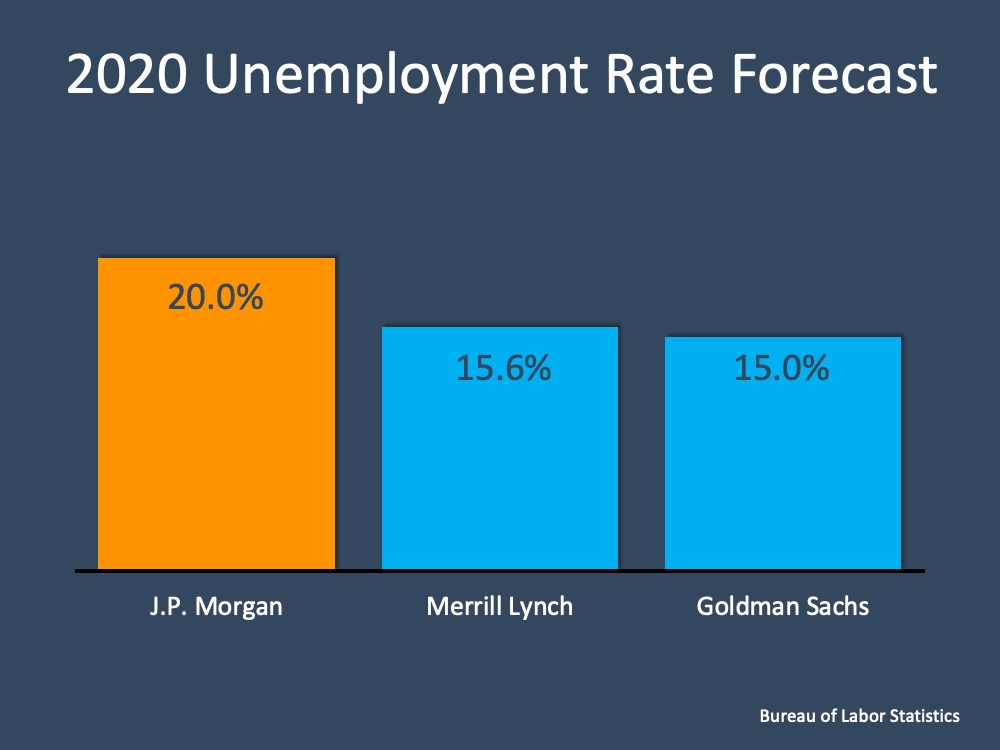 What's happened over the last several weeks?
Here's a breakdown of this spring's weekly unemployment filings:
The good news shown here indicates the number of additional unemployment claims has decreased week over week since the beginning of April. Carlos Rodriguez, CEO of Automatic Data Processing (ADP) says based on what he's seeing:
"It's possible that companies are already anticipating some kind of normalization, opening in certain states and starting to post jobs."
He goes on to say that this doesn't mean all companies are hiring, but it could mean they are at the point where they're not cutting jobs anymore. Let's hope this trend continues.
What will the future bring?
Most experts predict that while unemployment is high right now, it won't be that way for long. The length of unemployment during this crisis is projected to be significantly shorter than the duration seen in the Great Recession and the Great Depression.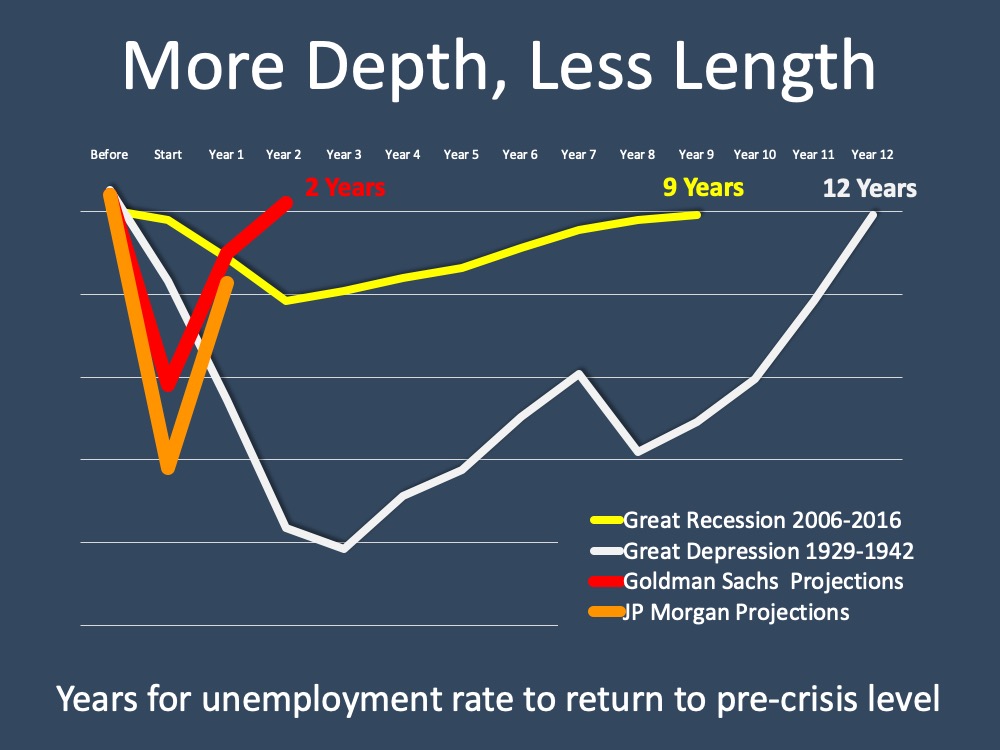 While forecasts may be high, the numbers are trending down and the length of time isn't expected to last forever.
Bottom Line
Don't let the headlines rattle you. There's hope coming as we start to safely reopen businesses throughout the country. Unemployment affects our families, our businesses, and our country. Our job is to rally around those impacted and do our part to support them through this time.